The Role of Mobile Apps in Digital Transformation
Mobile apps are becoming increasingly popular among businesses and service providers. From e-commerce stores and payment banks to food delivery and healthcare, there is almost no industry where mobile applications haven't proved their marketing value or established themselves fundamentally for effective communication with target customers.
The number of smartphone users worldwide surpassed the three-billion mark and is forecast to grow further led by China, India, and the US. The pandemic has made phones double up as education tools, banks and even supermarkets.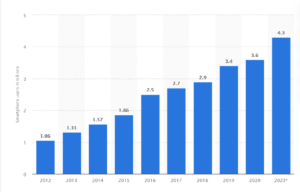 Source: Statista
Many companies build their mobile applications to expand their business and unlock market reach like never before. Considering the time we are in, the digital age is quickly enabling users to adopt new technology as businesses catch up with it and look for new ways to offer their services.
The value of the mobile app for business is pretty evident to everyone therefore more and more businesses are aspiring to get one for themselves. But is it that they are doing it because everyone is or do they actually know and understand its true potential and value, well if it is the latter then this article is for you.
Brand awareness and recognition
The mobile application is the face of your brand when it comes to smartphones today, in order to for that to happen it should stand out provide what your competitors are not providing be it UI/UX, features, services, aesthetics etc.
Further, an attractive app garners more attention towards itself thus creating brand awareness and then once users are on it then it makes sure that the customers are well informed about the new products and services and makes sure that they make a purchase.Analytics
what better way to collect user-specific data on purchase and sales smoothly, browsing duration,a preferred platform to share information and preferences, collecting feedbacks etc. all this data can be used when you provide tailored offers to the users/customers.
Standing out of the lot
Even at this point when smartphone usage is soaring through the roof you'd be surprised to know that not many businesses have a dedicated mobile application for themselves and your business have one for itself not only makes you stand out but helps you grab the attention of potential customers as well as capture a huge chunk of market share.
Effortless Marketing
The niche practice of marketing is to do it via media channels like newspapers, magazines, TV commercials, social media etc but all of them will charge you to keep your advertisements running but app is the sole medium which requires nothing once it is created except its running and maintainance, as it pushes notifications to its users regularly be it regarding an event, product, offers, services etc. Thus a mobile app makes it more convenient and affordable for both the user and the brand to connect and come closer.
Time-saving
Mobile apps are lightweight, requires less effort and load much faster than mobile websites and depending on mobile apps many features can be made available offline too which is not possible in the case of mobile websites.
To conclude this article, people are using mobile devices in today's competitive environment to keep up with their favorite brands. Also mobile apps are a great platform which gives you the power to build a direct relationship with the user. With the increasing competition in e-business market, a mobile application is a necessity and can immensly increase the profitability of your business.