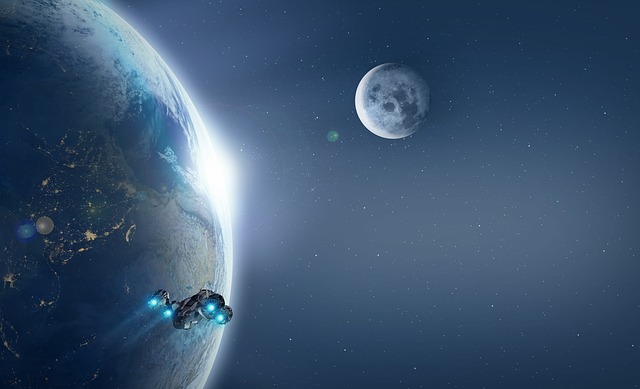 Octi has created a new social network that uses augmented reality to connect the act of seeing your friends in real life with viewing digital content, like their favorite YouTube videos and Spotify songs.
When I wrote about the startup in 2018, it was building AR technology that could do a better job of recognizing the human body and movement. Last week, co-founder and CEO Justin Fuisz (pictured above) told me that this was "a really cool feature," but that Octi's investors pushed him "to do more, go deeper."
Speaking of those investors, the startup says it has now raised $12 million in funding (including a previously announced seed round of $7.5 million) from Live Nation, Anheuser-Busch InBev, Peter Diamandis' Bold Capital Partners, Human Ventures, I2BF, Day One Ventures, Tom Conrad, Scott Belsky and Josh Kushner.
Descartes Labs, a well–funded startup based in New Mexico, provides businesses with geospatial data and the tools to analyze it in order to make business decisions. Today, the company announced the launch of its Descartes Labs Platform, which promises to bring its data together with all of the tools data scientists — including those with no background in analyzing this kind of information — would need to work with these images to analyze them and build machine learning models based on the data in them.
Descartes Labs CEO Phil Fraher, who took this position only a few months ago, told me that the company's current business often includes a lot of consulting work to get its customers started. These customers span the range from energy and mining companies to government agencies, financial services and agriculture businesses, but many don't have the in-house expertise to immediately make use of the data that Descartes Labs provides.
As we learned back in October, Microsoft has been cracking away at not one, but two dual-screen devices: Surface Duo and Surface Neo. Surface Duo will run Android, while Surface Neo will run on a special fork of Windows 10 dubbed "Windows 10 X."
This morning the company is pulling back the curtain a bit, debuting its first batch of dual-screen developer tools and shedding some light on how apps can utilize that second screen.
While a developer kit for the Android-powered Duo has been made available, the company says dev tools for the Windows-powered Neo will arrive in "the coming weeks," with a target date of February 11th.
By default, says Microsoft, apps on these dual-screen devices will only occupy one screen. Users can elect to "span" the app to make it stretch across both — but, at least for now, it's not something an app can force to happen.
Startup productivity tools have never been better, but that's led to employees being more passionate than ever about the tools they want to use themselves. PMs don't want to use Jira, engineers don't want to mess with Trello and keeping everyone happy can mean replicating processes again and again.
Montreal-based Unito is building software that helps these platforms communicate with each other so teams can keep their favorite tools without bringing the company to a crawl. The startup has just closed a $10.5 million Series A round led by Bessemer Venture Partners with participation from existing investors Mistral Venture Partners, Real Ventures and Tom Williams.
Unito's tool works by collaborating among most of the major workplace productivity software suites' APIs and automatically translating an action in one piece of software to the others. Updates, comments and due dates can then sync across each of the apps, allowing employees to only interact with the software that's best for their job.
In October, Google debuted experimental apps focused on digital well-being, including one that offered a notification mailbox, another that tracked how long you went between phone unlocks and even one that let you print the information you needed from your phone for the day so you wouldn't have to use your phone, to name a few. Now, Google has added three more apps to its unique collection with the launch of a Screen Stopwatch for tracking screen time, another that lets you visualize your phone usage as bubbles and a third that lets you put your phone in an envelope… wait, what?
Envelope is not a joke, as it turns out, but rather the latest bit of creativity from London-based design studio Special Projects. The group had already created the phone info printout app, Paper Phone, which arrived when Google's Digital Wellbeing Experiments platform first launched last year.
Google Cloud today announced Secret Manager, a new tool that helps its users securely store their API keys, passwords, certificates and other data. With this, Google Cloud is giving its users a single tool to manage this kind of data and a centralized source of truth, something that even sophisticated enterprise organizations often lack.
"Many applications require credentials to connect to a database, API keys to invoke a service, or certificates for authentication," Google developer advocate Seth Vargo and product manager Matt Driscoll wrote in today's announcement. "Managing and securing access to these secrets is often complicated by secret sprawl, poor visibility, or lack of integrations."
Google is giving an AI upgrade to its Collections feature — basically, Google's own take on Pinterest, but built into Google Search. Originally a name given to organizing images, the Collections feature that launched in 2018 let you save for later perusal any type of search result — images, bookmarks or map locations — into groups called "Collections." Starting today, Google will make suggestions about items you can add to Collections based on your Search history across specific activities like cooking, shopping or hobbies.
The idea here is that people often use Google for research but don't remember to save web pages for easy retrieval. That leads users to dig through their Google Search History in an effort to find the lost page. Google believes that AI smarts can improve the process by helping users build reference collections by starting the process for them.
After announcing a $550 million fundraise last August, U.K. AI-based health services startup Babylon Health is putting some of that money to use with its widest-ranging project to date. The company has inked a 10-year deal with the city of Wolverhampton in England to provide an integrated health app covering 300,000 people, the entire population of the city.
The financial terms of the deal are not being disclosed, but Babylon confirmed that the NHS is not taking a stake in the startup as part of it. The plan is to start rolling out the first phase of the app by the end of this year.
Babylon Health is known for building AI-based platforms that help diagnose patients' issues. Babylon's services are provided as a complement to seeing actual clinicians — the idea being that the interactions and AI can speed up some of the work of getting people seen and into the system. Some of Babylon's best known work to date has been a chatbot that it built for the NHS in the U.K., and, in addition to working with a number of private businesses on their employee healthcare services, it is also now in the process of rolling out services in 11 countries in Asia. (In August, Babylon said it was delivering 4,000 clinical consultations each day, or one patient interaction every 10 seconds; covering 4.3 million people worldwide; with more than 1.2 million digital consultations completed to date.)
Amazon Music, the streaming music service from the e-commerce and cloud giant that competes against the likes of Spotify and Apple Music, announced a milestone in its growth today: it has passed 55 million customers across the six different pricing tiers that it offers for the service, ranging from $15 per month through to a free, ad-supported tier.
The numbers represent a strong leap forward for the service, which launched in October 2016. But in the bigger race to tie down consumers making the move to streaming services with recurring subscriptions, Amazon appears still to lag behind Apple Music, which last summer said it passed 60 million paying users (no updated numbers since), and Spotify, which as of last quarter said it had 248 million users globally, 113 million of them paying.
Amazon does not break out how many users are in each of its tiers, although we are asking and will update if we learn more. The overall figure, Amazon said, includes growth of more than 50% of users in the U.S., U.K., Germany and Japan subscribing to Amazon Music Unlimited, which includes HD-quality tracks for about 50 million songs. Other countries without HD-quality where Amazon Music is available include France, Italy, Spain and Mexico, and it notes that customers more than doubled in these four countries. It also recently launched services in Brazil.
Boeing has signed a new agreement with Israel-based Tactical Robotics, an exploratory deal that will see the two companies work together jointly on "developing, producing and marketing" aircraft with vertical take-off and landing (VTOL) capabilities based on Tactical Robotics' "Fancraft" enclosed rotor technology.
Already, the Urban Aeronautics-owned Tactical Robotics has developed "Cormorant," an autonomous flying car vehicle that has the footprint of roughly a Humvee, but that can take off and land vertically thanks to its Fancraft rotors. Unlike open rotors, these are placed inside ducts, which provide advantages both in terms of directing airflow and providing enhanced safety for anyone around the vehicle because they're mostly covered. This new arrangement between the two companies will begin with exploring options for Cormorant in terms of production and deployment for potential applications, including disaster response.