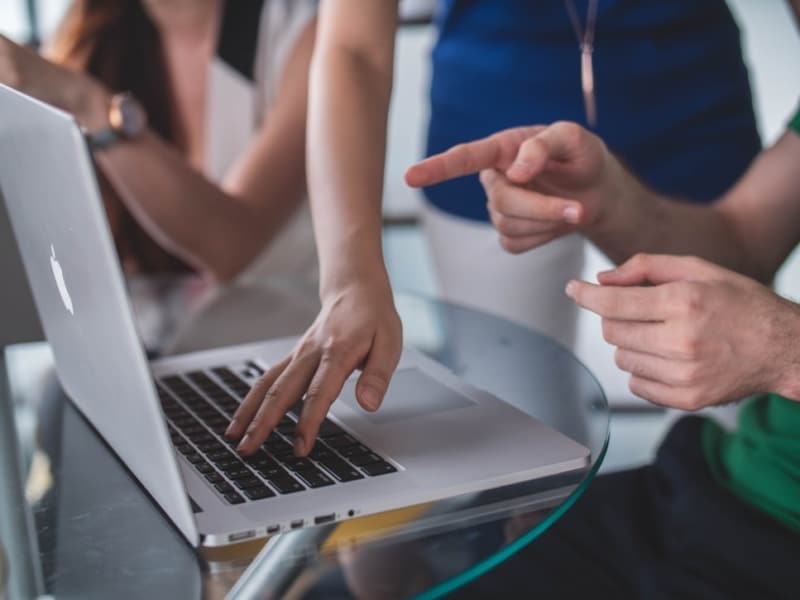 TechBits, August 21, 2019
For more than five decades, Moore's Law has governed the pace of innovation in the semiconductor industry – driving evolution in the computing space from the early desktops and laptops to cloud computing and Internet of Things today. Every 18 to 24 months,double the number of transistors per unit area were crammed into our silicon chips. This helped reduce cost as well as improve performance and power consumption in successive generations of microchips. As microchips became more compact, it also helped pave the way for thinner compute form factors including the mobile phones, tablets and ultrathin laptops.
Moore's Law isslowing,and it is more challenging than ever before to deliver improvements every 18-24 months.Shrinking dimensions is significantly challenging and it's taking longer to discover new manufacturing technologies that allow continued miniaturization of silicon. From an industry standpoint, this stagnation really puts a premium on innovation. The processor design approach must make up for the gaps,to deliver product-level improvements at the pace of traditional Moore's Law.
IBM makes the Power Series chips, and as part of that has open-sourced some of the underlying technologies to encourage wider use of these chips. The open-source pieces have been part of the OpenPower Foundation. Today, the company announced it was moving the foundation under The Linux Foundation, and while it was at it, announced it was open-sourcing several other important bits.
The Holosphere is Prydz's latest Eric Prydz In Concert (EPIC) show, a limited-run multi-sensory experience he and his team have been constantly developing for almost a decade. The show has grown dramatically over the years, and versions have included hundreds of laser beams, digital screens larger than a jumbo jet, and colossal holographic effects. They're breathtaking, but not practical, and production for The Holosphere is so large Tomorrowland had to redesign its grounds in order to accommodate it.
Microsoft is making a beta version of its Chromium Edge browser available to download today. The Microsoft Edge beta will be available for all supported versions of Windows and macOS, and the software maker is encouraging businesses and regular enthusiasts to take a closer look at the new browser. So far, there have been more than 1 million downloads of preview builds of Edge, and Microsoft says it has received more than 140,000 individual pieces of feedback.
India's mission to the Moon, known as Chandrayaan-2, successfully entered lunar orbit on August 20th, ahead of the country's first attempt to land a vehicle on the lunar surface. The maneuver was a critical move for the mission that could enable India to become the fourth country to put a spacecraft intact on the Moon.
The Chandrayaan-2 mission began with its launch on July 22nd on top of an Indian GSLV MK-III rocket. The payload consists of three spacecraft: a vehicle designed to orbit around the Moon, a lander called Vikram, and a rover called Pragyan. While the orbiter will stay in space, the lander is meant to carry the rover down to the lunar surface for an up-close look at the Moon.
NASA has confirmed a mission to Europa, one of the moons of Jupiter, will indeed happen. The mission was initially explored starting in 2017, with the space agency looking for reports on how it might proceed, and now NASA has said it will go ahead and move to the key step of finalizing mission design, which will then lead to actually building the spacecraft that will make the trip, and the science payload it'll carry on board.
The goal of the mission, which is codenamed "Europa Clipper," is to find out whether the icy natural satellite orbiting Jupiter could sustain life, and also explore whether it might be colonizable or habitable. Plus, we'll definitely learn a lot more about Europa with an up-close-and-personal exploration.
Apple this morning announced its highly anticipated new credit card, Apple Card, is launching today for all customers in the U.S. Customers will be able to apply for the Apple Card through the Wallet app on the iPhone, then immediately begin using it by way of Apple Pay — before the physical card arrives in the mail.
Powered by Goldman Sachs and Mastercard, the card will work both as a traditional credit card and through Apple Pay anywhere that Mastercard is accepted. In lieu of points, which are favored by many of today's credit card users, Apple Card doles out cash back for purchases. And it especially incentivizes users to choose Apple Pay, which offers 2% back instead of just 1% for non-Apple Pay purchases.
In addition, purchases from Apple are rewarded with 3% back — making it an obvious choice for buying Apple hardware and other gear.

The process of using the Stoic journaling app is simple: You open the app in the morning and the evening, when you'll be prompted to answer a couple of questions and perform a few simple exercises.
For example, this evening the app asked me to rate my current level of fulfillment and to identify what made me smile today, while also pointing me to guided exercises like journaling and breathing.
"The core of the app is: We have this insight and we see what influences your mood and what you feel," Lobodzinski said. He suggested that this is very different from the "super transactional" idea embedded in my other mental health and wellness apps, where "you pay for my app and you feel better." In his view, "You should feel how you feel. It's okay, how you feel, but you should know why you are feeling this way."
The path to general AI — and possibly superintelligence — is being paved before our eyes. And with the proliferation of an AI-driven society, the social and economic value of such technology is also on the rise. In turn, harnessing and leveraging such technology needs to extend beyond the interests of venture capitalists, investment groups and entrepreneurs — and also be a priority on a geopolitical scale.
When the global economy starts to feel the shift ushered in with mass-adoption of AI, the United States needs to be leading the charge as opposed to chasing the pack.
For previous edition of TechBits, click here.